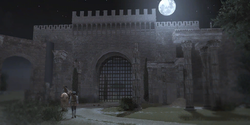 The Porta Nomentana was one of the Aurelian gates of Rome that was demolished in 1827, and now serves as a boundary wall for the British Embassy.
Construction
Edit
It was built as a single-arch gate between 270 and 273 CE by Emperor Aurelian. Its original right-hand semicircular tower (on quadrato foundations) is still to be seen, while its left-hand one incorporated a tomb, presumed to belong to Quintus Aterius, a famous orator at the court of Tiberius. Marble from that tomb was used to cover the gate in restorations by Honorius in 403, who at the same time blocked the two nearby posterns in the direction of Castra Praetoria and restored the Porta Salaria.
Renaissance
Edit
In 1503, upon returning to Rome, Cesare Borgia met a kidnapped Francesco Troche at the gate. Francesco had unwittingly informed his brother Egidio of Cesare's plans for his conquest of Urbino, and begged for Cesare's forgiveness. Cesare then ordered his executioner Micheletto Corella to strangle Troche, before commanding him to eliminate the poet and actor Pietro Rossi in the Colosseum. 
The Porta was turned into a two-arch gate by Pope Pius IV in 1564, evident from the papal inscription on it, the same year it was replaced by Porta Pia as the access route to the Via Nomentana. This phase's brick arch, topped by the papal arms, and the original right-hand semicircular tower with quadrato foundations, are still to be seen. Ten years later, the Porta Asinaria also closed to be replaced by the new Porta San Giovanni.
References
Edit
Ad blocker interference detected!
Wikia is a free-to-use site that makes money from advertising. We have a modified experience for viewers using ad blockers

Wikia is not accessible if you've made further modifications. Remove the custom ad blocker rule(s) and the page will load as expected.