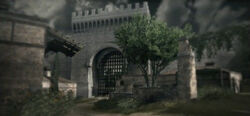 The Porta Nomentana is one of the minor gates of the Aurelian Walls of Rome, so named for the Via Nomentana that ran through it. Since the Via Nomentana was not as significant as the Via Salaria, this gate was eclipsed in important by its sister gate, the Porta Salaria. Though still standing today, it now serves as a boundary wall for the British Embassy.
Alongside the other gates of the Aurelian Walls, the Porta Nomentana was originally built between 270 and 273 CE by Emperor Aurelian as a single-arch entryway. It comprised two semi-circular towers, with the one on the left-hand later converted to a tomb for a famous orator at the court of Emperor Tiberius, Quintus Aterius. Quintus's tomb was demolished in 1827, and the construction of the British Embassy, which incorporated the wall, effectively sealed the gate, but the right tower still exists.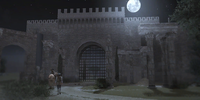 In Assassin's Creed: Brotherhood, all the gates are misidentified, though Shaun Hastings's database entries are factually correct. The gate marked as the Porta Nomentana in the game is actually the Porta Praenestina. This error is transferred over even to the nearby tunnel entrance, also named Porta Nomentana. The proper Porta Nomentana is instead mislabeled as the Porta Pinciana. For the sake convenience, this article assumes that Shaun Hastings's research is correct, and the Animus 2.01 labeled the gates erroneously.
References
Edit
Ad blocker interference detected!
Wikia is a free-to-use site that makes money from advertising. We have a modified experience for viewers using ad blockers

Wikia is not accessible if you've made further modifications. Remove the custom ad blocker rule(s) and the page will load as expected.