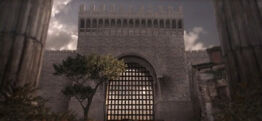 Porta Metronia is one of the Aurelian gates of Rome in the southern section of the wall.
At the end of the Middle Ages, the gate was closed and the entrance bricked up. Because of increasing traffic pressure, there were four main passages made in addition to the original gate in the Aurelian Walls. Currently, the ground level around the port through the ages has increased significantly, and the tower is the only upper part of the arcade visible.
Reference
Edit
Ad blocker interference detected!
Wikia is a free-to-use site that makes money from advertising. We have a modified experience for viewers using ad blockers

Wikia is not accessible if you've made further modifications. Remove the custom ad blocker rule(s) and the page will load as expected.