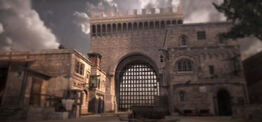 The Porta Cavalleggeri, formerly known as the Porta Turrionis, was one of the gates of the Leonine Walls in Rome.
Constructed sometime between 848 and 1455, the Porta Turrionis was so named because it stood next to a tower (turrionis) built by Pope Nicholas V.
Reference
Edit
Ad blocker interference detected!
Wikia is a free-to-use site that makes money from advertising. We have a modified experience for viewers using ad blockers

Wikia is not accessible if you've made further modifications. Remove the custom ad blocker rule(s) and the page will load as expected.