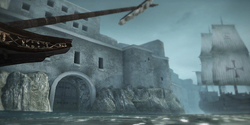 The Port of Naples (Italian: Porto di Napoli) is one of the largest seaports in Italy.
The port was built during Greek colonization in the 9th century BCE, and, over time, the port grew and became one of the most important in the world.
During the Renaissance, Cesare Borgia used facilities in the port to manufacture his naval cannon designed by Leonardo da Vinci. Soon after the facilities were founded, they were destroyed by the Assassin Ezio Auditore da Firenze.
Reference
Edit