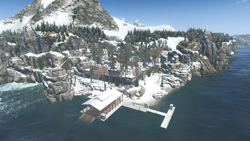 Port-au-Basques is a town at the extreme southwestern tip of Newfoundland, Canada.
At the time of the 18th century, the area was home to a modest French settlement, protected by a palissade wall, and a small port that had been constructed near the coast. Various supplies were stored in one of the outpost's warehouses, which was at one point robbed by the Templar Shay Cormac.
Reference
Ad blocker interference detected!
Wikia is a free-to-use site that makes money from advertising. We have a modified experience for viewers using ad blockers

Wikia is not accessible if you've made further modifications. Remove the custom ad blocker rule(s) and the page will load as expected.