Where are the paintings?


This article is in need of more images and/or better quality pictures in order to achieve a higher status. You can help the Assassin's Creed Wiki by uploading better images on this page.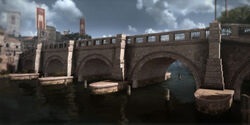 The Ponte Sisto is a bridge spanning the Tiber River in Rome. During the Renaissance, it connected the Centro and Vaticano Districts.
A new incarnation was built by Pope Sixtus IV between 1473 and 1479 as a replacement for its predecessor, the Pons Aurelius.
Reference