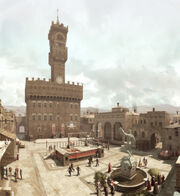 The Piazza della Signoria (English: The Square of Lordship) was a city square in central Florence, which stood adjacent to the imposing Palazzo della Signoria.
As a popular place for executions during the Renaissance period, three members of the House of Auditore – Giovanni, Federico and Petruccio – were counted amongst its numbers in 1476, as they were silenced in part of the Templar plot to seize the city; betrayed by Uberto Alberti, a former friend of the noble family.[1] Later, in 1498, the mob execution of Girolamo Savonarola also took place in the plaza.[2]
References
Edit
Ad blocker interference detected!
Wikia is a free-to-use site that makes money from advertising. We have a modified experience for viewers using ad blockers

Wikia is not accessible if you've made further modifications. Remove the custom ad blocker rule(s) and the page will load as expected.