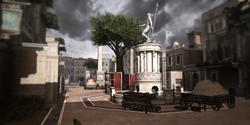 The Piazza Navona is a landmark in Rome.
This piazza was built on the site of the Stadium of Domitian, which was constructed during the 1st century. Located at the southwest end of the piazza was the ancient speaking statue of Pasquino.
Unearthed and erected in the Piazza in 1501, the statue was used by citizens as a sign post for social parodies and anonymous derogatory comments, which were attached to it for all to read.
Reference
Edit
Ad blocker interference detected!
Wikia is a free-to-use site that makes money from advertising. We have a modified experience for viewers using ad blockers

Wikia is not accessible if you've made further modifications. Remove the custom ad blocker rule(s) and the page will load as expected.