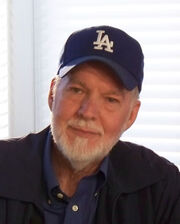 Peter Renaday (born June 9, 1935) is an American voice actor, originating from New Iberia, Louisiana. He has voiced characters in films, such as Splinter in Teenage Mutant Ninja Turtles, as well as The Aristocats and Scooby-Doo and the Witch's Ghost.
For his career in regards to television, Peter Renaday has voiced characters in shows such as Angel, Grim & Evil, Evil Con Carne, and Justice League.
Following this, his video game work has led him to be a part of the characters in games such as Dragon Age: Origins, Ninja Gaiden Sigma 2, Halo Wars, Lost Odyssey, Jeanne d'Arc, James Bond 007: From Russia with Love, Metal Gear Solid 2: Sons of Liberty, Viewtiful Joe 2, and Fallout: New Vegas.
Assassin's Creed works
External links
Ad blocker interference detected!
Wikia is a free-to-use site that makes money from advertising. We have a modified experience for viewers using ad blockers

Wikia is not accessible if you've made further modifications. Remove the custom ad blocker rule(s) and the page will load as expected.