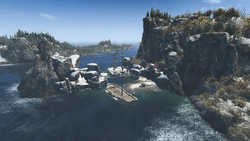 Pearl Island was an island located in the North Atlantic, south-east off the coast of Nova Scotia.
At least one of its shores had at one point been inhabited by the Iroquois, as evidenced by the presence of a cave painting in the region. Prior to their extinction, the island was also home to large numbers of great auks.
During the mid-18th century, the island was visited by the Assassin-turned-Templar Shay Cormac, who explored the area and the ship that had run aground nearby. While there, he also recovered an ancient armor of Viking origins.
Reference
Edit