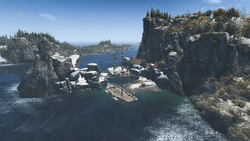 Pearl Island was an island located in the North Atlantic, south-east off the coast of Nova Scotia.
At least one of its shores had at one point been inhabited by the Iroquois, as evidenced by the presence of a cave painting in the region. Prior to their extinction, the island was also home to large numbers of great auks.
During the mid-18th century, the island was visited by the Assassin-turned-Templar Shay Cormac, who explored the area and the ship that had run aground nearby. While there, he also recovered an ancient armor of Viking origins.
Reference
Ad blocker interference detected!
Wikia is a free-to-use site that makes money from advertising. We have a modified experience for viewers using ad blockers

Wikia is not accessible if you've made further modifications. Remove the custom ad blocker rule(s) and the page will load as expected.