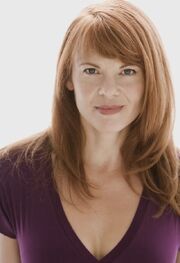 Paula Jean Hixson (born 7 August 1968) is an American actress and voice actress, originating from Portland, Oregon, later moving to Montreal, Canada in 1989. She graduated in Theatre Performance from Concordia University and has appeared in TV shows such as The Phantom and Being Human. Additionally, she has appeared in films such as No Surrender, Whiteout, and Source Code.
For the Assassin's Creed series, Hixson voiced Amelia. She has also done voice acting for other videogames, including Deus Ex: Human Revolution, in which she plays Faridah Malik.
Assassin's Creed worksEdit
External link
Edit
Ad blocker interference detected!
Wikia is a free-to-use site that makes money from advertising. We have a modified experience for viewers using ad blockers

Wikia is not accessible if you've made further modifications. Remove the custom ad blocker rule(s) and the page will load as expected.