"I absolutely did leverage my size to the advantage of my employers. I was a protector. A bodyguard. Nothing more. I never sought violence. Never! I don't even like the word "pirate," mate."
―Parry Crowther.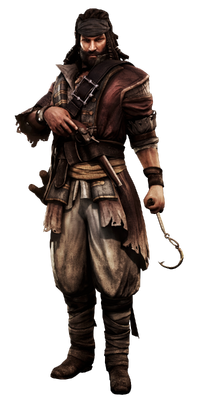 Parry Crowther was a pirate's pirate, embracing the gentlemanly connotations of the somewhat antiquated term "buccaneer". With his multifaceted personality, Parry could mask and facilitate his true business. Despite his imposing nature and tendency to drink, he had a gentle manner among friends.
In 2013, his genetic memories were used as an Animi Avatar by the entertainment branch of the Templar company Abstergo Industries, to influence the general public via the Animus game console, under the title of the Buccaneer.
Trivia
Reference
Primary stage
Secondary stage
Tertiary stage
Quaternary stage
Ad blocker interference detected!
Wikia is a free-to-use site that makes money from advertising. We have a modified experience for viewers using ad blockers

Wikia is not accessible if you've made further modifications. Remove the custom ad blocker rule(s) and the page will load as expected.