Papal Guard
Talk

12
4,614pages on
this wiki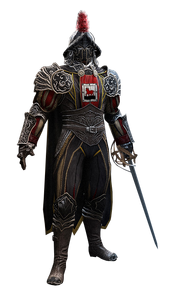 The Papal Guard were elite soldiers commanded by the Papacy to serve and protect the pontiff during his tenure.
By 1503, the Papal guards protected Pope Alexander VI, and were led by the Pope's son and Captain General, Cesare Borgia. They were also the precursors to the Swiss Guard.
The Papal guards were the most versatile and difficult guards in Rome, as they possessed the best of abilities held by all other archetypes.[1] They were skilled at both attack and defense, easily deflecting and countering many attacks.
Papal guards could dual-wield a wheel-lock firearm and a sword, making them deadly opponents at both short and long-range. Other than swords, they could also be equipped with a variety of short, long, or heavy weapons, though these were rarer.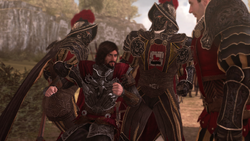 Much like Agiles, Papal guards were extremely fast, and were able to dodge most attacks. Accompanying this, they were also difficult to escape from, and could even catch up to Assassins in a chase.
Papal guards often traveled in groups, and would employ teamwork strategies in battle. While one could continuously fire at their target from a distance, the others would attack from close range. As well as this, they could throw sand and grab enemies from behind, skills common to Seekers.[2]
Design
Early Papal guard designs were seen in the Assassin's Creed: Brotherhood cinematic trailer, and in Assassin's Creed: Ascendance. While the designs for the guards themselves were changed before the game's release, Fabio Orsini wore the same armor as seen in the original concept, albeit without a helmet and bearing a different emblem.

Additionally, all the Papal guards seen were shown to have halberds. However, in-game, the only time they could be seen carrying halberds was during the arrest of Cesare Borgia.
In Assassin's Creed: Ascendance, the Papal Guard under Cesare were shown to wear the coat of arms of Pope Julius II, comprised of the Papal Keys and a shield with a golden oak tree on a blue field.
Appearances
Combat
Papal guards were not affected by Ezio's taunts.
Cesare Borgia himself fought much like a Papal guard, and was able to dual-wield a pistol and sword as they did.
The Papal guards were considerably stronger than Ezio and had a larger build, with all of them being at least a head taller than him.
Smoke bombs had no effect on a Papal guard while engaged in combat. However, the bombs functioned as normal if the guard was taken by surprise.
A Papal guard could only be disarmed if he carried a pistol.
References
Edit
↑ Cite error: Invalid <ref> tag; no text was provided for refs named Dev_Diary_3