Where are the paintings?


This article is in need of more images and/or better quality pictures in order to achieve a higher status. You can help the Assassin's Creed Wiki by uploading better images on this page.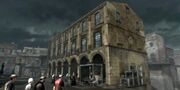 The Palazzo Comunale (English: Municipal Palace) is the city hall of Forlì. The Assassin Ezio Auditore was once a guest of Caterina Sforza at the Palazzo.
History
Built in 1000 around an existing tower, the Palazzo Comunale was enlarged in 1412 and bought by the Ordelaffi family, the heads of Forlì.
Their rule was marked by excessive violence, culminating in the reign of Pino III Ordelaffi, who murdered his brother for the throne, killed his first wife, his mother, and his second wife before being murdered by his third wife.
Trivia
Reference