"I have created a small gallery in the Villa. Monteriggioni's artists are always welcome to study them."
―Mario Auditore regarding the Villa's gallery, 1454.
The painting gallery was an area in which paintings purchased by Ezio Auditore were stored and showcased. A gallery was first present in the Villa Auditore, and later another was created in the Tiber Island headquarters.
Villa Auditore
Edit
At some point during 1454, Mario Auditore created a painting gallery in the Villa, taking advantage of his brother's connections in Florence to import fine art.[1]
From 1476 to 1499, his nephew Ezio gathered pieces of Renaissance artwork from art merchants in several different cities during his travels, which were displayed in the villa's painting gallery. However, the paintings were either destroyed or stolen by the Borgia following the siege of Monteriggioni in 1500.[2][3]
Thanks to his friendship with the artist Leonardo da Vinci, Ezio Auditore was also able to gather a large number of his works, including the Annunciation, Lady with an Ermine, and the Portrait of a Musician.[2]
Tiber Island headquarters
Edit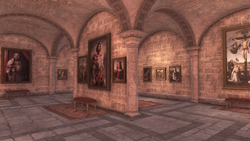 After having obtained an old storeroom on Tiber Island from Fabio Orsini, the Assassin Order re-decorated a room to house a painting gallery.[3]
Ezio once again gathered paintings, sold by art merchants throughout Rome - all of which were the works of Raphael. Additionally, portraits of primary assassination targets were displayed in the same gallery.[3]
References
Edit
Ad blocker interference detected!
Wikia is a free-to-use site that makes money from advertising. We have a modified experience for viewers using ad blockers

Wikia is not accessible if you've made further modifications. Remove the custom ad blocker rule(s) and the page will load as expected.