Ottoman Empire
Talk

4
3,875pages on
this wiki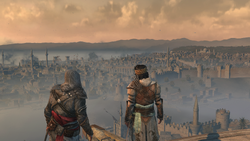 The Ottoman Empire was a Turkish state that ruled over most of the territories of the former Byzantine Empire and beyond, with Constantinople as its capital.
Following the Fall of Constantinople in 1453 at the hands of the Ottomans, the Byzantine Empire effectively ceased to exist. Some time afterwards, the Templars, who had deeply ingrained themselves in the Byzantine nobility, began opposing the Ottoman Empire and working to undermine it. Vlad Tepes, Prince of Wallachia, was one of those that made active attempts at conquering the Ottomans' land, until he was defeated in 1476 by the leader of the Ottoman Assassins, Ishak Pasha, and subsequently killed.
By 1509, the Templars had returned to Constantinople under the banner of the Byzantine Empire and the leadership of Manuel Palaiologos, in an attempt to reclaim the Empire from within. While Sultan Bayezid II fought with his son Selim over the succession of the throne, the Templars managed to gain an easy foothold within the Empire, and Bayezid's eldest son and presumed heir, Prince Ahmet, eventually joined the Templars' cause and easily took over Manuel's place as the leader of the Byzantine Templars.
In 1511, thanks to the combined efforts of Yusuf Tazim and Ezio Auditore da Firenze, the leader of the Ottoman Assassins and Mentor of the Italian Assassins respectively; and Prince Suleiman, grandson of the ruling Sultan, the Templars were repelled from Constantinople. After the deaths of Manuel and Ahmet, the latter at the hands of his own brother, Templar influence throughout the Ottoman Empire significantly collapsed.
Reference
Edit