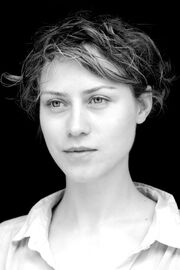 Olivia Morgan is a Scottish actress who portrayed Mary Read in Assassin's Creed IV: Black Flag. Morgan originally auditioned for a minor part, but her low voice led Ubisoft to consider her for the role of Mary. However, she and Sarah Greene were unable to fly to Montreal to supply motion capture for the characters, due to their busy schedules.[1]
She has primarily performed on stage, including an all-female touring production of The Taming of the Shrew. In 2013, she played a witch in a West End production of Macbeth starring James McAvoy; it was around this time that she recorded her role for Black Flag. Morgan noted the dual portrayal of Mary Read / James Kidd was reminiscent of Shakespeare's Twelfth Night.[1]
She has also appeared in episodes of Doctors and Holby City.
References
External links