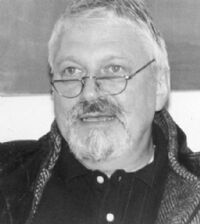 Oliver Bowden (born 1948) is the pen-name of Anton Gill, the novelist and Renaissance historian who has written several novelizations of the Assassin's Creed video games.
During a 2011 interview with Ubiworkshop, Bowden revealed that he is an avid gamer and gains much of his inspiration for character development throughout the writing process from playing the Assassin's Creed series.[1]
Assassin's Creed books
Reference
Ad blocker interference detected!
Wikia is a free-to-use site that makes money from advertising. We have a modified experience for viewers using ad blockers

Wikia is not accessible if you've made further modifications. Remove the custom ad blocker rule(s) and the page will load as expected.