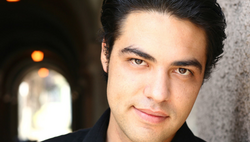 Noah Watts is a Native American actor who voiced and provided motion and facial capture for Ratonhnhaké:ton in Assassin's Creed III, Assassin's Creed III: Liberation and Assassin's Creed IV: Black Flag.
Biography
A member of the Crow Nation and descendent of the Blackfeet Nation, Watts grew up in Bozeman, Montana.
Watts began acting on stage at a young age and developed his acting skills while in high school. Watts also worked on his acting craft in the form of speech and debate contests and won fourth place representing Montana at the National Forensic League National Tournament.
Graduating from high school, Watts won a scholarship to attend the American Academy of Dramatic Arts. After graduating, Watts moved to Los Angeles, where he currently resides.
Assassin's Creed works
Assassin's Creed III (2012) - Ratonhnhaké:ton
Assassin's Creed III: Liberation (2012) - Ratonhnhaké:ton
Assassin's Creed IV: Black Flag - Aveline (2013) - Ratonhnhaké:ton
External links