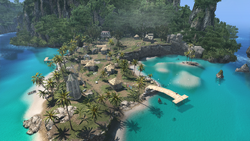 New Bone was an island in the Caribbean, located in the Seranilla region to the southwest of Jamaica. During the early 18th century, it was the site of a sizable sugar plantation owned by the Beckford Estate.
Said plantation's warehouse was located near the cliffs, where armaments were set up; in spite of these defenses, it was raided by the pirate Edward Kenway sometime between 1716 and 1722. He would also visit the island to accept two assassination contracts via pigeon coop.
Reference
Edit
Ad blocker interference detected!
Wikia is a free-to-use site that makes money from advertising. We have a modified experience for viewers using ad blockers

Wikia is not accessible if you've made further modifications. Remove the custom ad blocker rule(s) and the page will load as expected.