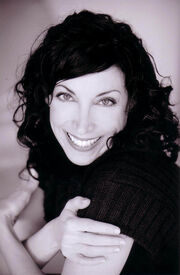 Nadia Verrucci is a Canadian actress, choreographer and singer. Aside from voice acting, she frequently directs shows and has her own theatre company called In Your Face entertainment. Verrucci has also appeared on television shows such as Being Human and films including Mirror Mirror.
For the Assassin's Creed series, she has lent her voice to multiple characters, most significantly Juno, a member of the First Civilization and major antagonist.
Assassin's Creed worksEdit
External links
Edit
Ad blocker interference detected!
Wikia is a free-to-use site that makes money from advertising. We have a modified experience for viewers using ad blockers

Wikia is not accessible if you've made further modifications. Remove the custom ad blocker rule(s) and the page will load as expected.