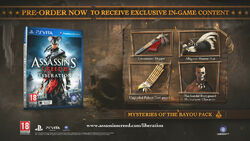 The Mysteries of the Bayou Pack was a downloadable content addition that was available as a pre-order bonus for Assassin's Creed III: Liberation.
The pack included the Ceremonial Dagger, an upgraded pouch for the Blowpipe, the Alligator Hunter Hat accessory, and the Mackandal Bodyguard Animi Avatar.
In Assassin's Creed Liberation HD the Alligator Hunter Hat became a Uplay reward while the Ceremonial Dagger, now renamed Voodoo Dagger, and the upgraded pouch were added to a new pre-order bonus called Assassin Voodoo Pack.
Reference