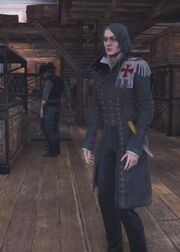 Myrtle Platt (unknown – 1868) was a member of the British Rite of the Templar Order, located in London during the Victorian era.
By 1868, Platt was overseeing a Templar-branded warehouse in Southwark, where explosives and weapons for the Blighters were stored. She was killed by the Assassins Jacob and Evie Frye, who dropped a cluster of barrels on her, following one of Henry Green directions.
Reference
Edit
Ad blocker interference detected!
Wikia is a free-to-use site that makes money from advertising. We have a modified experience for viewers using ad blockers

Wikia is not accessible if you've made further modifications. Remove the custom ad blocker rule(s) and the page will load as expected.