Mounted cannons
Talk

7
3,880pages on
this wiki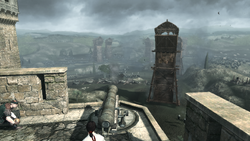 Mounted cannons were the stationary version of regular cannons, and were often situated on stone walls, towers, or fortresses.
Monteriggioni
Edit
Sometime in late 1499, Mario Auditore upgraded the arsenal of Monteriggioni by adding mounted cannons to the walls of the town. In anticipation of an attack from the Borgia, or from their long time enemies in Florence, Mario rigorously trained his men in the cannons' use.
A few days after their installation, Ezio Auditore da Firenze and several of Monteriggioni's mercenaries used the cannons to repel the Borgia's forces, after they had begun a siege on the town.
Mounted cannons were also frequently used in the army of Cesare Borgia, with both the normal and the sea variant counted in his armada.
American Revolutionary War
Edit
Cannons were used by both Colonial and British troops during the American Revolutionary War.
Reference
Edit