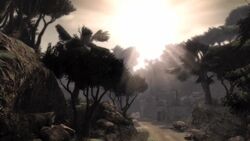 Mount Circeo (Italian: Monte Circeo) is a mountain located in Italy on the Gulf of Gaeta.
History
During the early 16th century, Cesare Borgia used the site as a facility for the manufacturing of tanks designed by Leonardo da Vinci. The factory and its products were destroyed by a group of mercenaries led by the Assassin Ezio Auditore da Firenze.
Reference
Ad blocker interference detected!
Wikia is a free-to-use site that makes money from advertising. We have a modified experience for viewers using ad blockers

Wikia is not accessible if you've made further modifications. Remove the custom ad blocker rule(s) and the page will load as expected.