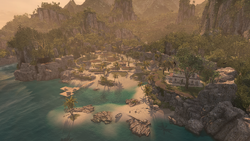 Montez was a Spanish plantation in the West Indies, located on Cuba's southern shore. In the 1730s, the Assassin Adéwalé could rescue slaves from the plantation and recruit Maroons for the rebellion.
Reference
Ad blocker interference detected!
Wikia is a free-to-use site that makes money from advertising. We have a modified experience for viewers using ad blockers

Wikia is not accessible if you've made further modifications. Remove the custom ad blocker rule(s) and the page will load as expected.