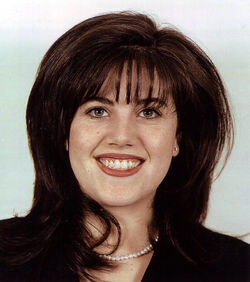 Monica Samille Lewinsky (born July 23, 1973) is a former White House intern with whom United States President Bill Clinton admitted to having an "inappropriate relationship" with while she worked at the White House from 1995 to 1996. The affair and its repercussions, which included Clinton's impeachment, became known as the Lewinsky scandal.
In 2012, Clay Kaczmarek included her in one of the Rifts inside the Animus.
Reference
Edit
Ad blocker interference detected!
Wikia is a free-to-use site that makes money from advertising. We have a modified experience for viewers using ad blockers

Wikia is not accessible if you've made further modifications. Remove the custom ad blocker rule(s) and the page will load as expected.