Kanien'kehá:ka
Talk

28
5,148pages on
this wiki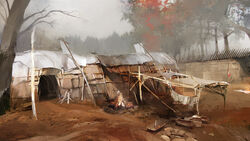 The Mohawk were a tribe of Native Americans found in upstate New York.[1] They called themselves the Kanien'keha:ka, or the "People of the Flint".[2]
At least one of their members, Connor Kenway, joined the Assassin Order.[3]
During the American Revolutionary War, due to unresolved conflicts with settlers encroaching into the Mohawk Valley, and outstanding treaty obligations to the British Crown, the Mohawk fought against the United States.[1]
References
↑ Assassin's Creed III - Inside Assassin's Creed III Episode 3
↑ GameInfomer April 2012 issue: Assassin's Creed III