Mitsuko Nakamura is a research executive at Abstergo Industries' Discovery and Acquisitions facility in Philadelphia, and a member of the Inner Sanctum of the Templar Order.[1]
Biography
Edit
On 16 December 2013, Nakamura was notified of the discovery of Milton Jones' ancestral ties to the Assassin Adéwalé by Dr. Damian Saravakos, revealing that while they may not find new artifacts in his memories, the genetic memory would be valuable to the employees at Abstergo Entertainment.[2]
On 15 October 2015, Nakamura had a conference with Isabelle Ardant,[3] and a year later was present for the initiation of Ardant's successor, Simon Hathaway, into the Inner Sanctum.[4]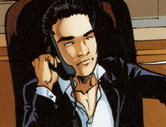 Despite Mitsuko being a feminine given name of Japanese origin, in the non-canonical modern day storyline of the French Assassin's Creed comic series, Nakamura is depicted as a man and is responsible for giving the direct orders to the Templar agent Vernon Hest. Assassin's Creed: Heresy would later confirm that Nakamura is indeed a woman canonically.
References
Edit
Characters
Factions
Locations
Events
Terms and concepts
Ad blocker interference detected!
Wikia is a free-to-use site that makes money from advertising. We have a modified experience for viewers using ad blockers

Wikia is not accessible if you've made further modifications. Remove the custom ad blocker rule(s) and the page will load as expected.