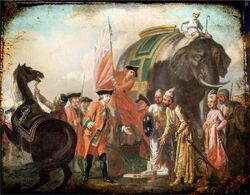 Mir Jafar Ali Khan Bahadur (1691 – 5 February 1765) was the first Nawab of Bengal under Company rule in India from 1757 to 1760 and from 1763 to 1765.
Biography
Mir Jafar wanted to overthrow his brother-in-law and become the head of the Bengal government. To do so, he formed a covert alliance with the British Empire. On 23 June 1757, during the Battle of Plassey, he swore by the Quran to fight the British. However, he informed the British commander, Robert Clive, of his brother-in-law's tactics, and urged the British to advance and seize the enemy territory.
Following the British victory at Plassey, Mir Jafar was installed as the new ruler of Bengal. He offered the British to provide financial compensations to the East India Company, and exclude the French from the region. Mir Jafar also promised special favors to the British military and naval forces in Calcutta.
Eventually, the constant concessions forced upon him by the British caused the financial and political collapse of Mir Jafar. In October 1760, the East India Company forced Mir Jafar to resign in favor of his son-in-law, Mir Qasim.
Reference