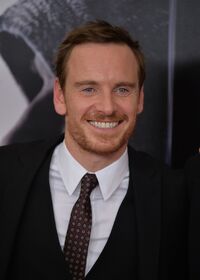 Michael Fassbender (born 2 April 1977) is an Irish-German actor, and is best known for his roles in Inglourious Basterds, Shame, X-Men: First Class, X-Men: Days of Future Past, X-Men: Apocalypse, 12 Years a Slave and Prometheus.
Fassbender produced and played the lead roles in the Assassin's Creed film.[1][2] He was not familiar with the series before signing on for the film, but has since played the games.[3]
Assassin's Creed works
References
External link
Ad blocker interference detected!
Wikia is a free-to-use site that makes money from advertising. We have a modified experience for viewers using ad blockers

Wikia is not accessible if you've made further modifications. Remove the custom ad blocker rule(s) and the page will load as expected.