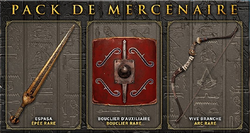 Mercenary Pack is a one of the retailer exclusive pre-order packs for Assassin's Creed: Origins, it consist of equipment pieces for Bayek.
It is obtained by buying Limited Edition at French and Italian Amazon.
Espasa Sword
Swift Branch Bow
Auxiliary Shield
Reference
Edit
Ad blocker interference detected!
Wikia is a free-to-use site that makes money from advertising. We have a modified experience for viewers using ad blockers

Wikia is not accessible if you've made further modifications. Remove the custom ad blocker rule(s) and the page will load as expected.