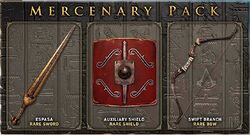 Mercenary Pack is one of the retailer exclusive pre-order packs for Assassin's Creed: Origins, it consists of three equipment pieces for Bayek.
It is obtained by buying the physical Limited Edition release for either PlayStation 4 or Xbox One from the Amazon UK, France, Italy, or Spain websites.
On December 5th, alongside the Trials of Gods: Sekhmet weekly event, this pack's contents was made available on all platforms through the in game e-store for 150 helix credits per item.
Content
Espasa sword
Swift Branch bow
Auxiliary shield
Reference
Ad blocker interference detected!
Wikia is a free-to-use site that makes money from advertising. We have a modified experience for viewers using ad blockers

Wikia is not accessible if you've made further modifications. Remove the custom ad blocker rule(s) and the page will load as expected.