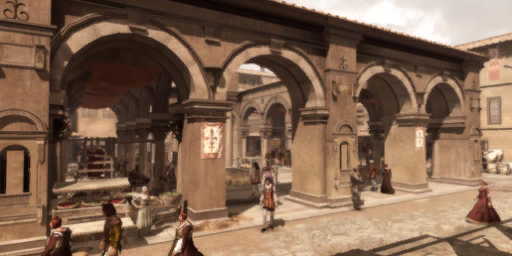 The Mercato Vecchio, or Republic Square, was a marketplace in Florence during the Renaissance.
The center of Florentine business, the Mercato Vecchio served all of the shopping needs of the city. To quote Antonio Pucci, a 14th-century Florentine poet: "Physicians dwelt around for every ill, and here were linen cloths, and flax merchants, pork vendors, and apothecaries."
The Mercato was first established in Roman times, as the city of the Forum, and it was only in 1030 that the landmark was first documented as a marketplace. Staple foods from the countryside, like grain, were the most popular goods sold, followed by wool.
The landmark was also displayed in the virtual training map of Florence, which was used by Abstergo Industries to train the recruits in the first and second stage of the Animi Training Program.
A glyph could be found on the Mercato.
Mercato Vecchio is Italian for "The Old Market", from mercato, "market" and vecchio, "old".
References
Edit
Ad blocker interference detected!
Wikia is a free-to-use site that makes money from advertising. We have a modified experience for viewers using ad blockers

Wikia is not accessible if you've made further modifications. Remove the custom ad blocker rule(s) and the page will load as expected.