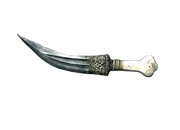 Mehmet's Dagger was a short blade obtainable by Ezio Auditore da Firenze during the 16th century. It was given to him after conducting a mission with a trainee Master Assassin.
Weapon statistics
Edit
When striking a guard during combat, the dagger had a small chance of poisoning the enemy.
This dagger was featured in some images of Ezio, such as the one on the cover for the novelization of Revelations.
It is also shown being wielded by Mirela Djuric and Lysistrata in their database images.
Mehmet's Dagger is the same short blade that Ezio found in Yusuf Tazim's corpse upon returning to Constantinople in 1512.
Reference
Edit