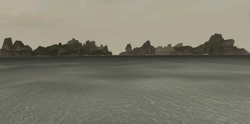 Mayaguana is the most easterly island of the Bahamas and located south of the capital Nassau.
In December 1717, the French pirate Alonzo Batilla sailed to Mayaguana in the hope to find his fellow pirate Olivier Levasseur. During his search, Alonzo was led into a trap by Benjamin Hornigold.
However, Alonzo escaped the trap and located Hornigold, who was in the middle of a meeting with the Templars Barnes and Christopher Condent. Condent shot Barnes for his failure to find the Fragment of Eden, and Alonzo proceeded to attack Hornigold's ship, the Benjamin. Later, a dying Barnes told Alonzo that Levasseur might be in Harbour Island.
Gallery
Reference
Ad blocker interference detected!
Wikia is a free-to-use site that makes money from advertising. We have a modified experience for viewers using ad blockers

Wikia is not accessible if you've made further modifications. Remove the custom ad blocker rule(s) and the page will load as expected.