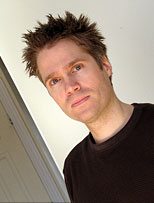 Maxime Desmettre is a professional concept artist and illustrator from France, currently living in Montreal, Canada. Desmettre mainly works on environment projects and has been working as a Concept Artist on the Assassin's Creed Series for Ubisoft.
Games credited
Edit
Alone in the Dark: The New Nightmare (2001) - Darkworks
Prince of Persia: Warrior Within (2004) - Ubisoft
Peter Jackson's King Kong: The Official Game of the Movie (2005) - Ubisoft
Prince of Persia (2008) - Ubisoft
Assassin's Creed II (2009) - Ubisoft
Tom Clancy's Splinter Cell: Conviction (2010) - Ubisoft
Assassin's Creed IV: Black Flag (2013) - Ubisoft
Assassin's Creed: Unity (2014) - Ubisoft
Assassin's Creed IIEdit
Assassin's Creed IV: Black FlagEdit
Assassin's Creed: UnityEdit
External links
Edit
Ad blocker interference detected!
Wikia is a free-to-use site that makes money from advertising. We have a modified experience for viewers using ad blockers

Wikia is not accessible if you've made further modifications. Remove the custom ad blocker rule(s) and the page will load as expected.