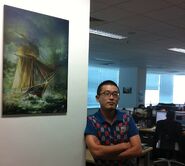 Max Qin, born Max QinPeng, is a Senior Concept Artist working at Ubisoft Singapore, and is best known for his work on the Assassin's Creed series. His areas of specialty are concept art, visual development and naval artwork, all of which he has employed in creating artwork for the Assassin's Creed series.
Biography
Born in China, Max now lives in Singapore, where he works for Ubisoft Singapore's art division. Previously Max worked for Newco Shanghai as a Lead Artist and for Sparky Animation as a Senior Concept Artist.
Qin has been noted to be particularly skilled in Photoshop, Corel Painter, Wacom, Premiere, 3D Max, Adobe After Effects along with the more traditional forms of art.
Education
Jilin College of The Arts (2004 – 2008) - 2D animation
Areas of expertise
Concept art creation
Matte painting
Game design
Creative sketching
Screenwriting
Arts management
Games credited
Other media work
MR.MOON-TVC, Sparky Animation
Dinosaur Train-TVC, Sparky Animation
FREE J-TVC, Sparky Animation
Kongfu Master-MMORPG, Newco Shanghai
RUN!-Online Game, Newco Shanghai
Eight Honors and Disgraces, TVC
References