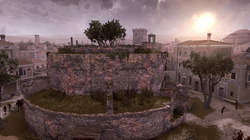 The Mausoleum of Augustus (Italian: Mausoleo di Augusto) is a landmark located in the northern section of the Centro District in Rome.
The Mausoleum itself was a circular structure with large walls, which housed a skylight that a tree grew out of. The Assassin Ezio Auditore da Firenze visited the Mausoleum several times during his travels, meeting with Niccolò Machiavelli and assisting a courtesan in distress there.
History
Occupied by the Colonna family in the Middle Ages, the Mausoleum was fortified and converted into part of the Castel Sant'Angelo.
After the humiliating defeat of the Commune of Rome in 1167, the Colonna family was disgraced, banished from the city and their fortification was dismantled. Later, the family was allowed back into Rome, though they spent the duration of the Renaissance feuding with the rival Orsini family.
Trivia
Reference