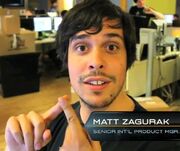 Matthew Zagurak is a scriptwriter at Ubisoft Montreal. Before becoming a Scripwriter, Zagurark worked as a Senior International Product Manager from 2007 until 2012. Among the games he has helped develop are Prince of Persia and Assassin's Creed titles.
Accredited games
Edit
My World Coach (2007) - Ubisoft
Shaun White Snowboarding (2008) - Ubisoft
Shaun White Snowboarding: World Stage (2009) - Ubisoft
Prince of Persia: The Forgotten Sands (2010) - Ubisoft
Assassin's Creed: Revelations (2011) - Ubisoft
Reference
Edit
Ad blocker interference detected!
Wikia is a free-to-use site that makes money from advertising. We have a modified experience for viewers using ad blockers

Wikia is not accessible if you've made further modifications. Remove the custom ad blocker rule(s) and the page will load as expected.