Ad blocker interference detected!
Wikia is a free-to-use site that makes money from advertising. We have a modified experience for viewers using ad blockers

Wikia is not accessible if you've made further modifications. Remove the custom ad blocker rule(s) and the page will load as expected.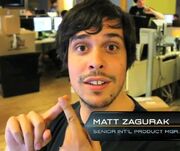 Matthew Zagurak is a scriptwriter at Ubisoft Montreal. Before becoming a Scripwriter, Zagurark worked as a Senior International Product Manager from 2007 until 2012. Among the games he has helped develop are Prince of Persia and Assassin's Creed titles.
Accredited games
Edit
My World Coach (2007) - Ubisoft
Shaun White Snowboarding (2008) - Ubisoft
Shaun White Snowboarding: World Stage (2009) - Ubisoft
Prince of Persia: The Forgotten Sands (2010) - Ubisoft
Assassin's Creed: Revelations (2011) - Ubisoft
Reference
Edit