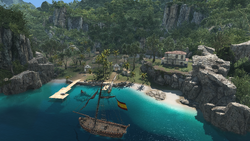 Matanzas was a sugar plantation located on the north coast of Cuba.
Palm trees, ferns and covers of countless fields were present on the plantation. To the north, a pier could be found; south crocodiles; east a warehouse; and in the center, accommodations for slaves.
During the Golden Age of Piracy, the pirate Edward Kenway sailed to Matanzas to free fellow pirates being held hostage and plunder the warehouse located there.
Reference
Edit
Ad blocker interference detected!
Wikia is a free-to-use site that makes money from advertising. We have a modified experience for viewers using ad blockers

Wikia is not accessible if you've made further modifications. Remove the custom ad blocker rule(s) and the page will load as expected.