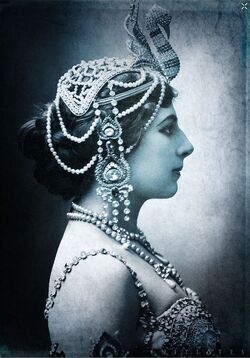 Margaretha Gertruida "Margreet" Zelle MacLeod (7 August 1876 – 15 October 1917), better known by her stage name Mata Hari, was a Frisian exotic dancer and courtesan accused of spying for the Germans during World War I.
Biography
Margaretha Zelle was born in Leeuwarden in the Netherlands. During the early 20th century, she moved to Paris, where she worked as an exotic dancer under the stage name Mata Hari. Her performances had quasi-Oriental influences, and soon gained critical acclaim for their flirtatious and captivating nature. Because of the Netherlands' neutral status during the First World War, Mata Hari was able to travel and perform in European countries on both sides of the war, arousing suspicion from the authorities.
On 17 February 1917, Mata Hari was arrested in Paris. The French accused her of being a German spy, despite a lack of proper evidence. On 24 July, she was accused by a military court of spying for the Germans and causing the deaths of French soldiers. Found guilty of the charges, she was executed by firing squad on 15 October 1917.
Reference