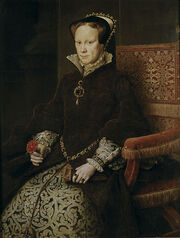 Mary I (18 February 1516 – 17 November 1558) was Queen of England and Queen of Ireland from 19 July 1553 until her death in 1558. She was also the fourth monarch of the House of Tudor. She was the eldest daughter of Henry VIII of England and the only one of his children by Catherine of Aragon to survive into adulthood. As a monarch, she is best remembered for her violent attempts to restore Catholicism as the state religion of England, burning hundreds of Protestants at the stake in the process, earning her the soubriquet "Bloody Mary". An affiliate of the Templar Order, she was killed by the Assassins on 17 November 1558 for her tyrannical rule over England and Ireland. She was succeeded by her younger half-sister, Elizabeth.
Gallery
Reference
Ad blocker interference detected!
Wikia is a free-to-use site that makes money from advertising. We have a modified experience for viewers using ad blockers

Wikia is not accessible if you've made further modifications. Remove the custom ad blocker rule(s) and the page will load as expected.