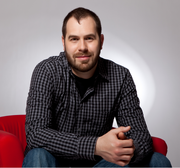 Martin Schelling was the Producer for Assassin's Creed: Revelations, and a member of the development team since he joined Ubisoft in 2003.
Before his developmental role on Revelations, Martin worked as Associate Producer/Closer on Shawn White Skateboarding.
Through the years, he has occupied various positions on multiple projects, including Prince of Persia: The Forgotten Sands, Prince of Persia (2008), Prince of Persia: Two Thrones, Peter Jackson's King Kong, and Prince of Persia: Warrior Within.
While working as a developer on Prince of Persia: The Forgotten Sands, it was his idea to include the option of purchasing Ezio Auditore's outfit from Assassin's Creed II.
External links
Edit
Ad blocker interference detected!
Wikia is a free-to-use site that makes money from advertising. We have a modified experience for viewers using ad blockers

Wikia is not accessible if you've made further modifications. Remove the custom ad blocker rule(s) and the page will load as expected.