Marooned was a virtual representation of one of Edward Kenway's genetic memories, relived by a research analyst at Abstergo Entertainment through the Animus.
Description
Stranded on Isla Providencia, Edward was forced to deal with Charles Vane and his insane antics.
Dialogue
Edward was fishing for food as Charles Vane snuck up on him.
Edward followed Vane through the jungle.
Vane attacked Edward using some weaponry he found amongst the ruins.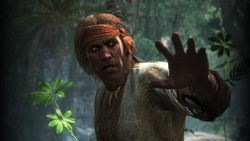 Edward managed to sneak up on Vane and jump him from above.
Outcome
Edward dealt with Vane, and managed to leave the island on a ship that had arrived.
Gallery
Reference
Ad blocker interference detected!
Wikia is a free-to-use site that makes money from advertising. We have a modified experience for viewers using ad blockers

Wikia is not accessible if you've made further modifications. Remove the custom ad blocker rule(s) and the page will load as expected.