Marooned
Technical information
Description

Marooned and alone somewhere in the West Indies, Edward must survive Charles Vane's increasingly deadly antics.

Appearance
Memory type

Main

Full sync

Skin 3 animals.
Air assassinate Vane.

Previous
Next
Historical information
Ancestor
Location
Date

February 1719
Marooned was a virtual representation of one of Edward Kenway's genetic memories, relived by a research analyst at Abstergo Entertainment through the Animus.
Description
Edit
Stranded on Isla Providencia, Edward was forced to deal with Charles Vane and his insane antics.
Edward was fishing for food as Charles Vane snuck up on him.
Edward followed Vane through the jungle.
Vane attacked Edward using some weaponry he found amongst the ruins.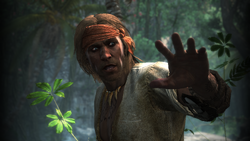 Edward managed to sneak up on Vane and jump him from above.
Edward dealt with Vane, and managed to leave the island on a ship that had arrived.
Reference
Edit