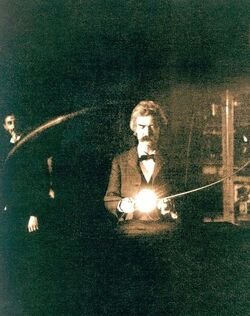 Samuel Langhorne Clemens (30 November 1835 – 21 April 1910), better known by his pen name Mark Twain, was an American author and humorist.
In 1872, Twain encountered the Pinkerton agent Tommy Greyling during a boat trip between New York City and London. The two discussed about Horace Greeley, who had been a friend of both, and his murder. Tommy had been sent in United Kingdom to investigate the crime and Twain then accepted to help him. A few days later, he partnered with Detective Frederick Abberline, chasing a Templar agent on the roofs of London.[1]
Twain was friends with the Serbian scientist Nikola Tesla. In 1894, Twain visited Tesla at his laboratory and experimented with the latter's Apple of Eden.[2]
References
Edit
Ad blocker interference detected!
Wikia is a free-to-use site that makes money from advertising. We have a modified experience for viewers using ad blockers

Wikia is not accessible if you've made further modifications. Remove the custom ad blocker rule(s) and the page will load as expected.