Ezio, my friend! How may I be of service?


This article is in desperate need of a revamp. Please improve it in any ways necessary in order to achieve a higher standard and follow our Manual of Style.
Here we seek to open the minds of men.


This article is a stub and is in need of expansion. You can help the Assassin's Creed Wiki by expanding it.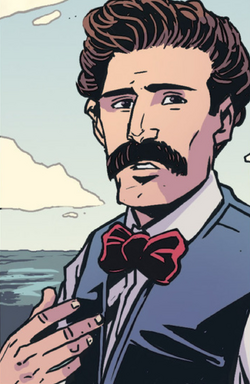 Samuel Langhorne Clemens (30 November 1835 – 21 April 1910), better known by his pen name Mark Twain, was an American author and humorist.
Biography
Edit
In 1872, Twain encountered the Pinkerton agent Tommy Greyling during a boat trip between New York City and London. The two discussed about Horace Greeley, who had been a friend of both, and his murder. Tommy had been sent in United Kingdom to investigate the crime and Twain offered to help him after hearing about the Pieces of Eden, of which he heard about during his travels.[1]
A few days later, Greyling and Twain partnered with Detective Frederick Abberline and the Assassins Evie Frye and Henry Green, chasing the Templar agent who tried to murder Greeley across the city. The group tried to prevent Alice from stealing pages of the Voynich manuscript hidden in the British Museum. While they ultimately failed, Greyling later cornered Alice on the boat bringing her back to America.[1]
Twain was friends with the Serbian scientist Nikola Tesla. In 1894, Twain visited Tesla at his laboratory and experimented with the latter's Apple of Eden.[2]
References
Edit
Characters
Factions
Locations
Events
Terms and concepts
Ad blocker interference detected!
Wikia is a free-to-use site that makes money from advertising. We have a modified experience for viewers using ad blockers

Wikia is not accessible if you've made further modifications. Remove the custom ad blocker rule(s) and the page will load as expected.