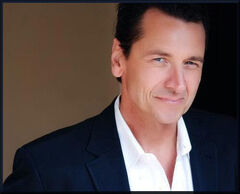 Mark Lindsay Chapman (born 8 September 1954) is an English film and television actor, originating from London. Chapman voiced Samuel Adams in Assassin's Creed III, though he did not reprise the role in The Tyranny of King Washington.
The following lists some of Chapman's roles and credits in various media productions:
Max Headroom (1987) – Paddy Ashton
Murder She Wrote (1987–1995) – Various characters
Dallas (1988) – Brett Lomax
Falcon Crest (1989) – Charley St. James
Swamp Thing (1990–1993) – Dr. Anton Arcane
Baywatch (1993) – The Great Maroni/Mark Chapman
The Langoliers (1995) – Nick Hopewell
The New Adventures of Superman (1996) – Jen Mai
JAG (1997) – RUC Inspector Vincent Hutchinson
Titanic (1997) – Chief Officer Henry Wilde
Charmed (2000) – Finley Beck
The Young and the Restless (2006) – Roland Burke
A Paramount internal memo dated from 1987 revealed that Chapman was once considered for the part of Data in Star Trek: The Next Generation.[1]
The similarity between his name and that of John Lennon's assassin (Mark David Chapman) prevented him from playing Lennon in John and Yoko: A Love Story in 1985, a biographical film produced by NBC. However, he would later go on to portray Lennon in the film Chapter 27.
External links
Edit
Reference
Edit
Ad blocker interference detected!
Wikia is a free-to-use site that makes money from advertising. We have a modified experience for viewers using ad blockers

Wikia is not accessible if you've made further modifications. Remove the custom ad blocker rule(s) and the page will load as expected.