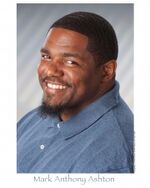 Mark Ashton (born May 20, 1970) is an American voice actor based in Los Angeles and represented by Solid Talent. His voice talents have been used in numerous advertisements by the following companies: CBS, MTV, Disney, Buena Vista Television, Warner Bros. Entertainment, Pepsi, Walmart, Miller Brewing Company, Ford, and the Theatre Radio Network.
Assassin's Creed works
Edit
References
Edit
Ad blocker interference detected!
Wikia is a free-to-use site that makes money from advertising. We have a modified experience for viewers using ad blockers

Wikia is not accessible if you've made further modifications. Remove the custom ad blocker rule(s) and the page will load as expected.