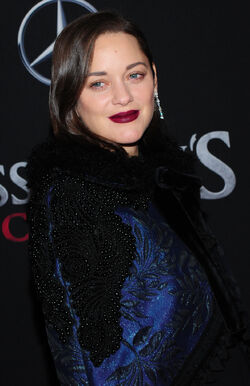 Marion Cotillard (born 30 September 1975) is a French actress who portrayed Sofia Rikkin in the Assassin's Creed movie. She previously worked with director Justin Kurzel and co-star Michael Fassbender on the 2015 film version of Macbeth.
Initially known for playing Lilly Bertineau in the Taxi films, she won an Academy Award for her portrayal of Édith Piaf in La Vie en Rose (2007), and received another Best Actress nomination for Two Days, One Night (2014).
She also received a BAFTA nomination for Rust and Bone (2012). She has worked with directors Tim Burton, Michael Mann, Woody Allen and Steven Soderbergh, but is perhaps best known for her roles in Christopher Nolan's Inception (2010) and The Dark Knight Rises (2012).
Trivia
Prior to being cast in the movie, Cotillard knew nothing about the Assassin's Creed franchise, but a close friend, who was very passionate about the series, reportedly introduced the actress to a lot of the story elements.[1]
Reference
External links
Ad blocker interference detected!
Wikia is a free-to-use site that makes money from advertising. We have a modified experience for viewers using ad blockers

Wikia is not accessible if you've made further modifications. Remove the custom ad blocker rule(s) and the page will load as expected.