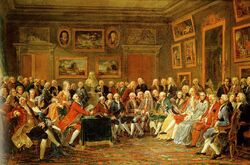 Marie Thérèse Rodet Geoffrin (26 June 1699 – 6 October 1777) was a leading female figure of the French Enlightenment.
Geoffrin became known for her salon in Paris, which helped establish a salon tradition among Enlightenment intellectuals, who would engage in intellectual discussions with politeness.[1] She was buried in the Church of Saint-Roch, along with the Enlightenment lumniaries Denis Diderot and the Baron d'Holbach.[2]
References
Edit
Ad blocker interference detected!
Wikia is a free-to-use site that makes money from advertising. We have a modified experience for viewers using ad blockers

Wikia is not accessible if you've made further modifications. Remove the custom ad blocker rule(s) and the page will load as expected.