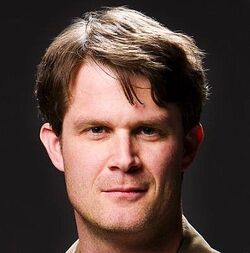 Marcel Jeannin is a Canadian actor, as well as a voice actor for numerous cartoons and video games. He has provided voice work for a large amount of characters appearing in the Assassin's Creed series.
Biography
Jeannin has appeared in over forty plays, and numerous film and television projects, among them Affiction, Grey Owl, The Run of the Country, and 300. He has performed in some of Canada's finest theatres, notably the Stratford Festival, the National Arts Centre, Regina's Globe Theatre and the Centaur Theatre in Montreal.
A sought-after workshop participant, he has assisted in the development of over 100 plays, and lends his voice to various cartoon series, such as Mona the Vampire, Arthur and Postcards from Buster.
Assassin's Creed works
External links
Ad blocker interference detected!
Wikia is a free-to-use site that makes money from advertising. We have a modified experience for viewers using ad blockers

Wikia is not accessible if you've made further modifications. Remove the custom ad blocker rule(s) and the page will load as expected.